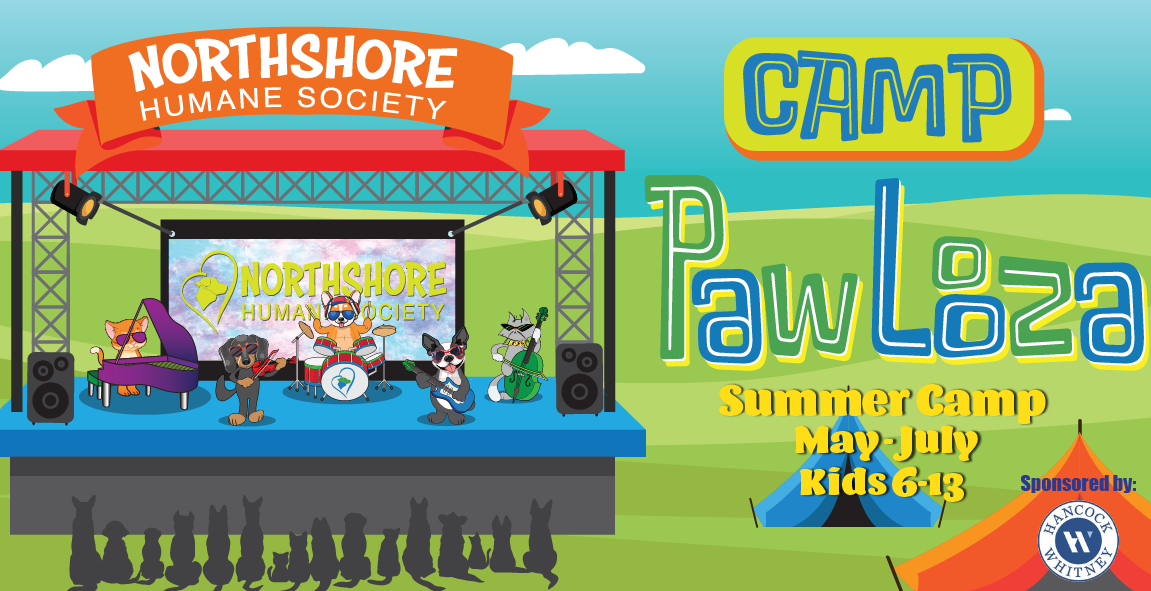 ** We're excited to announce our 2023 Summer Camps are officially SOLD OUT!!! Thank you to all of the parents who registered their children and to Hancock Whitney for sponsoring this year's camps. All funds raised have a positive impact on our homeless animals.
To all of the children who will be attending, our dogs and cats can't wait to meet you!!!
Hancock Whitney presents Northshore Humane Society 2023 Summer Camp, Camp Paw-Looza, a camp dedicated to everything dog and cat! 
We invite children ages 6 - 13 to spend a week celebrating companion animals as they engage in fun interactive games and activities, meet animal experts and ambassadors, and put their compassion into action through service projects that benefit the shelter's homeless animals. Children will symbolically adopt a shelter pet and be given an opportunity to interact with the rescued dogs and cats at the rescue. NHS summer camp programs foster a sense of responsibility and respect for animals through inquiry and experienced-based learning.
More info can be found below:
This year's camps will bring new and exciting activities to campers each week! Activities will include helping the rescued pets here at our facility as well as learning the importance of pet care and advocacy.
A variety of animal - related guest speakers attend each week including St. Tammany Parish Canine Unit, Love on a Leash, animal control officers, veterinarians and many more!
The 2023 dates are below. 
Camp is Monday - Friday, 9:00 am - 4:00 pm. Drop-off begins at 8:30 am. One week of camp is $250 per child. Lunch and snacks are provided by parents. 
Before care (8:00 am - 9:00 am) and after care (4:00 pm - 5:00 pm) are also available. They are $50 separately per week; package for both is $75 per week.
T-shirts are also available for an additional $20 and can be purchased through the registration page.
If you have any questions, please contact us by emailing volunteer@nshumane.org. Thank you for your continued support and we look forward to another great summer!!
2023 Summer Camp Available Dates
May 22 - May 26 - FULL
May 29 - June 2 - FULL
June 5 - May 9 - FULL
June 12 - June 16 - FULL
June 19 - June 23 - FULL
June 26 - June 30 - FULL
July 10 - July 14 - FULL
July 17 - July 21 - FULL
July 24 - July 28 - FULL
July 31 - August 4 - FULL
Already registered? Complete paperwork before the first day of camp here
NHS camps sponsored by