Our priority is to keep animals in homes and out of shelters. We suggest taking a look at the below list of dog trainers, dog sitters, moving tips, and day cares that can also help you and your pet stay together.
Dog Behavior
KPro K9 - Exclusive Trainer for Northshore Humane Society! Certified and expert staff with over 20 years of experience! KPro uses gentle and balanced methods to achieve optimal results making your family dog the talk of your neighborhood. KPro offers group and private training lessons. Watch a video on basic obedience and introducing a new dog to the home here. 
Petsuites Northshore
Abby's Furry Friends
Dog Gone Right
Fido Finishing School
Mandeville Canine Academy
Petco
PetSmart
Dog Daycares, Boarding & Sitting
Petsuites Northshore
The Diva's Pet Sitters, LLC offers services for the dogs, cats, birds...well any pet that's a stay-at-home pet! Based on the Northshore. 
Happy Tails Doggie Daycare & Gym located in Mandeville. 
Sit & Stay provides in-home customized pet care. 
Willow's Oak Pet Lodge & Doggie Daycare offers boarding, daycare, pet sitting, walking and training. Located in Madisonville. 
Also try Rover.com to find a pet sitter near you! 
Low Cost Spay/Neuter Opportunities
Northshore Humane Society: Our community veterinary clinic not only offers everyday services, we also have various low cost spay/neuter options throughout the year including our Operation CatSnip Program, monthly specials and canine options through grants. Learn more. Keep an eye on our website and Facebook page regularly for new opportunities. 
Magnolia Humane Society offers low cost spay and neuter clinics monthly.
Pearl River County ASPCA has specials when available.
Feral Cat Consortium helps the community through trap/neuter/return (TNR) for community cats. ​
SpayMart offers spay and neuter vouchers and assistance to poeple in the New Orleans area. ​
Housing Resources
If you are considering adoption, make sure to think ahead when it comes to housing. 
Save ahead for a pet deposit. The average pet deposit is between $200-500.
Look for pet friendly amenities around your new location including veterinarians, trainers, dog parks, etc.
Write a pet resume! In your resume you can have a photo of your pet with references from your current or past landlords. Also include a copy of your most current veterinary records.
Ask a realtor for help! Let your realtor know that you have a pet (pets) that are part of your family. Have them look up housing options that are right for everyone. Our favorite realtors are Jennifer Lacoste with Keller Williams and Patricia Conaghan with Re/Max Alliance. 
Give your pet (especially cats or small dogs) time to acclimate to the new residence. Give them one room to sniff and explore. Once they are comfortable expand slowly, room by room until they are fully acclimated. This can take one day or up to a week. Be patient and give your pet the time they need to be comfortable in their new environment. A move is not just stressful for you, but your pets as well. Ask if there was a pet in the home previously and make sure walls and carpets are cleaned before you move in. Your pets' sensory systems are stronger than humans. They may smell old pet smells that you cannot and mark their territory to claim it as theirs.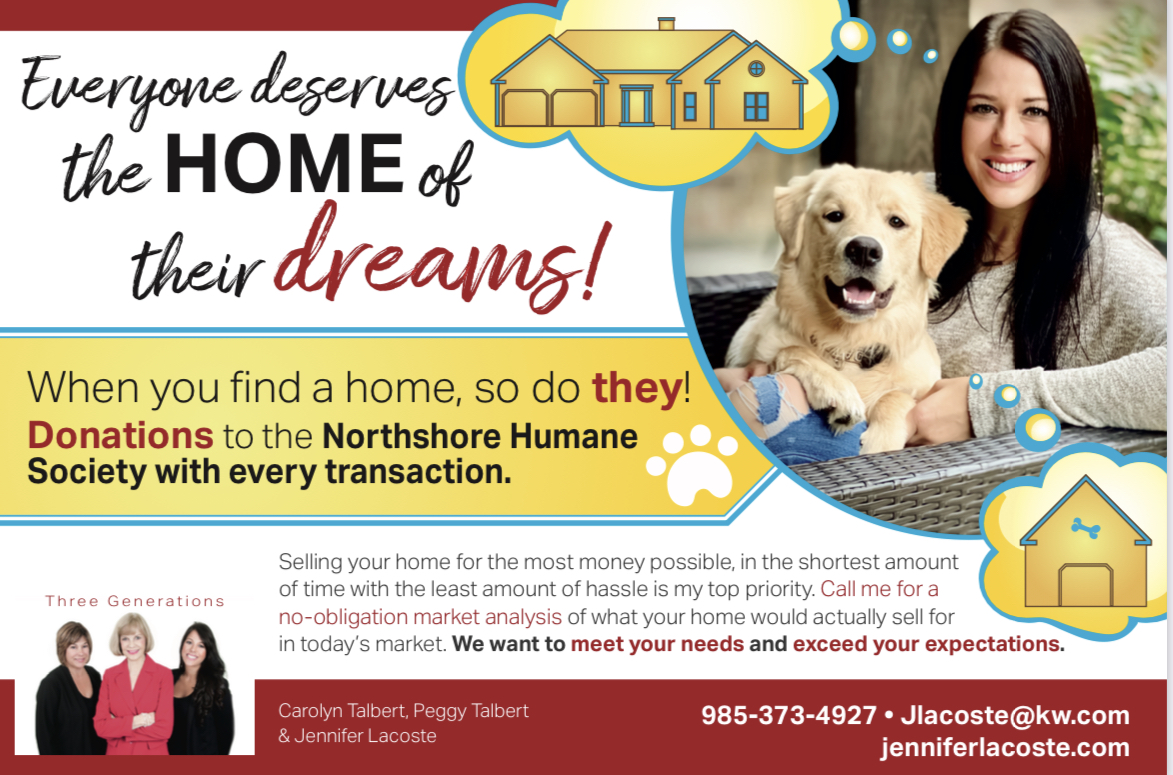 Pet-Friendly Apartments on the Northshore
Abita View Apartments
Artesia Luxury Apartments
Chenier
Cypress Lake Apartments
Grand Palms
Ibis Trail Apartments
Reagan Crossing
Springs at River Chase
**These are just a few of the many options available- For a more extensive list do an internet search for "pet friendly apartments near me"