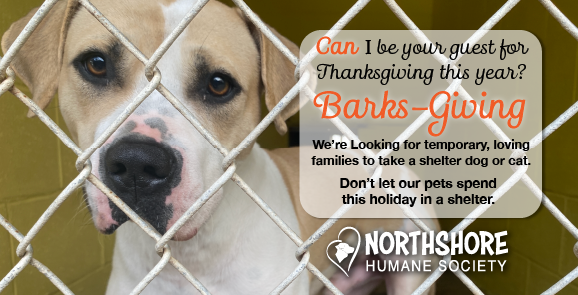 We're looking for temporary, loving families to take a shelter dog or cat over the Thanksgiving holiday. The goal is to have 100% of our animals in a loving home and out of the shelter!
DETAILS:
? Simply show up on the pick up day of your choice ready to browse available animals and to take one home that day!
? PICK UP will be Tuesday, November 22nd or Wednesday, November 23rd
? Return the animal Saturday, November 26th or Monday, November 28th
?All supplies including food, toys, litter, kennels, etc. can be provided! If you do have a kennel, please bring it with you as our supplies are limited.
AVAILABLE DOGS: https://www.northshorehumane.org/dogs
AVAILABLE CATS: https://www.northshorehumane.org/cats